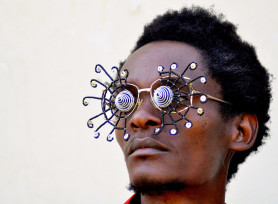 A l'exposició Making Africa, Continent de Disseny Contemporani, em van captivar les escultures d'ulleres de l'artista kenià Cyrus Kabiru, fetes a partir de materials de rebuig. El resultat és fantàstic! Ens permet renovar la nostra mirada d'Africa a l'hora que qüestiona el model occidental generador de tantes deixalles. Reciclem?
En la exposición Making Africa, Continente de Diseño Contemporáneo, me cautivaron las esculturas de gafas del artista keniano Cyrus Kabiru, hechas a partir de materiales de deshecho. El resultado es fantástico! Nos permite renovar nuestra mirada de Africa, al tiempo que cuestiona el modelo occidental generador de tantos residuos. Reciclamos?
Bei der Ausstellung Making Africa, Kontinent des Zeitgenössischen Designs, haben mich die brillenförmigen Skulpturen fasziniert die der aus Kenia stammende Künstler Cyrus Kabiru mit Abfallmaterial zusammengesetzt hat. Das Ergebnis, überraschend! Es ermöglicht uns einen neuen Blick von Afrika, und stellt gleichzeitig auch das so viel Abfall erzeugende, westliche Model in Frage. Let's recycle!
At the exhibition Making Africa, a Continent of Contemporary Design, I was fascinated by the eyewear sculptures of Kenyan artist Cyrus Kabiru, assembled by using rejected materials. The result, amazing! It gives us a new vision of Africa, at the time that it puts in question our western model wich produces a high quantity of detritus. Let's recycle!