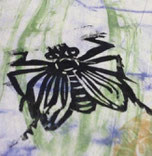 Aquest estiu a l'Art Camp de Pilsen, Txèquia, he pogut coneixer tècniques d'estampació alternatives... les mans, unes pedres, un os de cabra i fins i tot un matamosques! 
Este verano, en el Art Camp de Pilsen, República Checa, he tenido ocasión de conocer métodos de estampación alternativos... las manos, pequeñas piedras, huesitos de cabra e incluso un matamoscas!
Im Art Camp von Pilsen hatte ich diesen Sommer die Möglichkeit andere Druckverfahren kennenzulernen... die Hände, kleine Steine, Ziegenknochen und sogar eine Fliegenklatsche!

This summer, joining the Art Camp of Pilsen, I had the possibility to know other printing methods... such us hands, little stones, goat bonds and even a fly swatter!